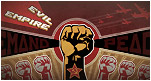 Demand Peace" -DLC description
The Evil Empire is a Cold War addon pack that allows you to play as the Soviet Union against the USA. It features 3 campaign missions, 1 new barrage, 1 multiplayer map, and 3 achievements.
Campaign
Arms Race
Tides of Change
Peliminary Defense
Barrage
Survival Mode
MP
Minigame
Ad blocker interference detected!
Wikia is a free-to-use site that makes money from advertising. We have a modified experience for viewers using ad blockers

Wikia is not accessible if you've made further modifications. Remove the custom ad blocker rule(s) and the page will load as expected.